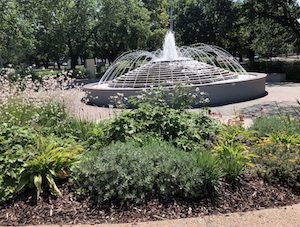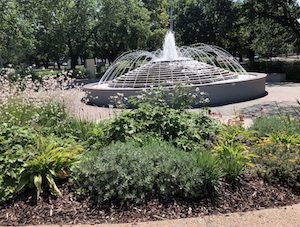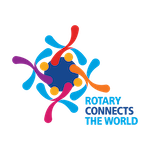 Good Morning and Welcome to the Club
Where Great Things Happen
Visits to this Page
10289
News from the Rotary Club of Sunbury Click Pictures for more Information.
Last week's Guest Speaker was Ludovic Grosjean MEng, CEng, CPEng, NER from OceanX.
Our speaker for the evening was Ludovic Grosjean. He is a young man with a passion and vision to clean up our planets waterways from dumped plastic pollution, one river, one ocean at a time. It was a delight to hear him speak at our Club last Tuesday night and I thank all the members that came to listen to his presentation including some old friends we have missed. He is a Past President of the Rotaract Club of Melbourne. Recently One of 6, United Nations Rotary Young Achievers selected by Past RI President Barry Rasin, recognised by the Australian Institute of Engineering as Australias most innovative young engineer and winner of the young professional engineer of the year 2019. Ludovics Cleanup project has a lofty ambition. He told us the majority of the world oceans pollutions come from 10 rivers in Asia and Africa. How brave of him to take his grandfathers dying wish for him to make a difference in the world and decide to tackle the wicked problem of ocean pollutions. His solution draws on his mechatronic (Mechanical and electronic) and marine biology credentials to combine the power of the Internet of Things, drones and artificial intelligence to develop a platform to identify water pollution, pinpoint it and collect it. For more information and ways to help him achieve his goals see Ocean X I will be talking more to the Board about this young man and hope we may continue to help him achieve his grandfathers desire.
By Kerry Kirk
From the Youre not alone forum that the Club Conducted Last Tuesday at the Goonawarra Glf Club.
What a powerful night we had last Tuesday. Youre not alone at the Goonawarra Golf Club was a very successful night attracting at least 50 people including speakers. Brad Towers from Subury Police and PP Kerry Kirk did an amazing job preparing for this night with some fabulous guest speakers. Mark Eustice, an ex football player from Essendon, Richmond and Sydney Swans, was the main speaker. He spoke about his drug addiction after football and his recovery in rehab. He has now been clean for 8 years and 3 months. A remarkable story by Mark. It touched my heart to hear the stories from our guests and also the audience. It worked! We reached out to the community as planned and now another drug forum will be organised for a later date. Well done and a big thank you to all involved helping with the night.
By President Janine Reinking
Donna Aranyi, Professor Rod Hunt from the Royal Children's Hospital with Kerry Kirk and Mike McCabe.
Last week our guest speakers were Donna Aranyi and Professor Rod Hunt from the Royal Children's Hospital. Rod spoke on how the Post Natal unit at the hospital operates and its importance to the community. He also spoke of the closeness that has formed over the years with the Rotary Club of Sunbury, and how it was started with and idea of Mannie Camilleri whose grandson Charlie was a patient at the RCH. So far the club has donated in excess of $70,000 to the RCH Foundation.
The club presented a cheque of $7500 to the RCH Foundation.
By Merv Minett
Heather Huke and Julie Corner from Sunbury Library thanked by Kerry Kirk.
At our Meeting 10th of July saw two speakers attend from the Sunbury Library. What a great talk. I havent been to a library for a long time but after the speakers I will definitely head to the new one when it opens in Macedon Street later this year. We even received an invitation from Heather our great speakers to have a tour through once it is up and running. The library has been able to keep abreast of all the modern technology and now you can get ebooks on your ipad, computer. They do have a three week use by time. They have junior sessions and its a real children orientated library the BE QUIET sign when we attended libraries now doesnt apply there. Great talk and very fascinating.
By President Janine Reinking
Elaine Castle FROM THE Community Visitors Scheme.
Recently our speaker was Elaine Castle, the manager of the Community Visitors Scheme. The program is a volunteer scheme to help reduce isolation, loneliness and offer social support within the Aged Care Facilities. There are a lot of elderly people who rarely get visitors. They need interaction with others even if only to talk about the weather or basic conversation. President Janine would love to start a support group within our club and community and encourage anyone who is interested to let her know. This would be a very worthy cause and you would only need an hour or two each week or fortnight.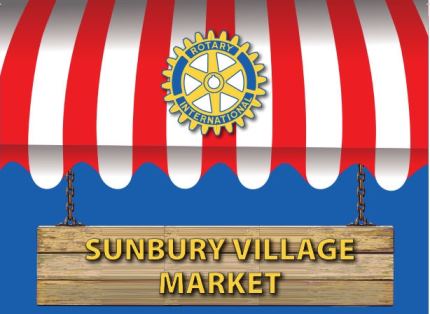 Sunbury Village Market
Every second Saturday of the Month, except January, at the Sunbury Memorial Hall and Village Green, Stawell St, Sunbury.
Next Market Date: Saturday August the 10th
Come along and grab a bargain.
New Stallholders Welcome, we are particularly wanting Food, Produce Vendors and second Hand Goods.
Ring 0400 907 793 or go to Stall Application

We are also On FaceBook
The Rotary name and logo are the exclusive property of Rotary International and are used here under
Rotary International Internet Policy Guidelines. Copyright2019 Rotary Club of Sunbury
This Website is Designed by the Rotary Club of Sunbury | Supported by Southern Star Internet