The Rotary Theme for 2017/2018 is
Rotary Making a Difference
The Rotary Monthly theme for Maternal and Child Health Month
We meet on Tuesdays at 6:30 for 7pm.
The venue is the Nook Cafe and Wine Bar
Olive Tree Hotel 111 Evans St, Sunbury, Victoria,

Club Stories
Last week we heard from Jason Jackson who runs a backyard beekeeping business. Jason also works as an Army engineer where he builds things for the ammo boys and girls to blow up. I also found out that he was once a Rotaractor from Preston and captain of his schools debating team which came runner up in a District Debating final many years ago. He related a lot of facts about bees that were very interesting. 65% of all crops in Australia depend on bees. The pollination service industry to farmers is a $1.7b industry. Bees have been making honey for some 20 million years. He talked about how a bee hive is structured from the man made boxes to what actually happens in a hive. The social structures are quite amazing and the defined roles of the Queen, the workers and the drones were well explained. Hmm, who would want to be a drone? Strangely enough the role of the Queen and the Drones are always the same, whereas the Worker, a female, in her 6 weeks of life has a chance for promotions from pollen collector to higher duties like, nursery duties, guard, royal attendant, etc. Jason is a hard working young man who spends up to 100 hours a week on his Army work, his home business and his bees. He says he gets by with 3 or 4 hours of sleep a night and that allows him the time to also spend with and take care of his family. His observations of the worker bees and the time they spend being active must have been a natural attraction for him and so he developed his backyard beekeeping business from a simple single hive to now one that runs 25 hives. One future scary possibility he told us about was the consideration that without bees the human race could be extinct within 4 years! He then went on to tell us what we could do to help bees survive: use less pesticides and herbicides, grow organically bee attracting flowers and plants, run your own backyard beehive!
Click picture for larger view.
×
---
---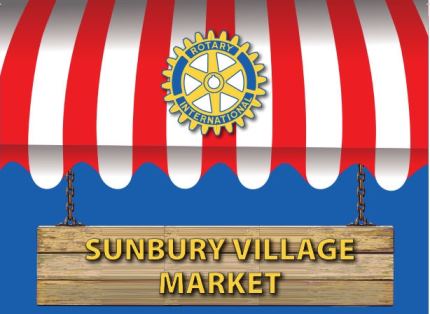 Sunbury Village Market
The next market will be held on
Saturday the 12th of May 2018
at the Sunbury Memorial Hall and Village Green, Stawell St, Sunbury.
Please use the following link for exiting Stallholders to update or for New Applications
Please read the instructions on the next screen carefully. Details

The Village Market is also On FaceBook
---
Sunbury Neighbourhood Kitchen
SNKI Website Or on Facebook

The Rotary Club of Sunbury is proud to be a sponsor of the SNKI.
---