The Rotary Theme for 2018/2019 is
Be the Inspiration
The Rotary Monthly theme for September is Basic Education and Literacy Month
We meet on Tuesdays at 6:30 for 7pm.
The venue is the Nook Cafe and Wine Bar
Olive Tree Hotel 111 Evans St, Sunbury, Victoria,

Event Calendar
---
Sunbury Neighbourhood Kitchen
SNKI Website Or on Facebook

SNK Pay it Forward 24th of September 2018

WE INVITE YOU TO COME DINE WITH US AND CELEBRATE FIVE YEARS OF SERVICE IN THE SUNBURY COMMUNITY!
Experience what our wonderful volunteers provide for the less fortunate each week. And help us to continue providing this important service, by making a minimum contribution of $40.
Enjoy a delicious three-course buffet meal, entertainment, auctions and raffles. Go to the SNKI Facebook Page for bookings. Credit card facilities will be available on the evening.
See the following......Film Clip
The Rotary Club of Sunbury is proud to be a sponsor of the SNKI.
---
Club Stories
Our guest speaker last week was Councillor Leigh Johnson spoke about his role in the Hume City Council as well as his, now part time, role as a member of the police force here in Sunbury. A New Zealand born, Leigh has lived in Sunbury for over 30 years and is a very proud Australian citizen and family man. Leigh advised the Rotary clock required some repairs and promised to keep us informed of progress. He talked of his passion for volunteering, the Boilerhouse theatre company, local football and his work with the youth of Sunbury. He briefly mentioned the Hume Global Learning Centre is progressing and due to open in 2019, this may be a potential resource we can book and use for future meetings or events. He also mentioned that the council had asked the Liberal party to speak to them of what their plans might be regarding the City of Sunbury out of Hume (yes again) but that that had not happened as yet. .
Click picture for larger view.
×
---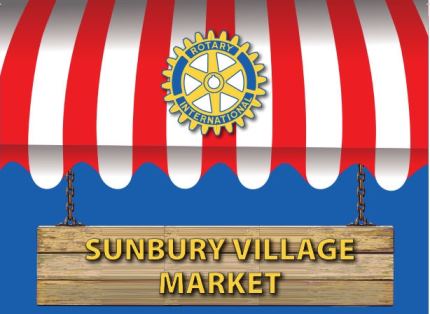 Sunbury Village Market
Every second Saturday of the Month, except January, at the Sunbury Memorial Hall and Village Green, Stawell St, Sunbury.
The next market will be held on
Saturday the 13th of October 2018.
Please use the following link for exiting Stallholders to update or for New Applications
Please read the instructions on the next screen carefully. Details

The Village Market is also On FaceBook
---