The Rotary Theme for 2016/2017 is
Rotary Serving Humanity
The Rotary Monthly theme for June is Rotary Fellowships Month
We meet on Tuesdays at 6:30 for 7pm.
The venue is the Nook Cafe and Wine Bar
Olive Tree Hotel 111 Evans St, Sunbury, Victoria,

Ainhoa with Pres Rob and Donna and Michael Mills
We had another wonderful night last Tuesday with our last guest speaker for my year being our own exchange student from France, Ainhoa. She presented many photos and a couple of films about her time here in Australia. She spoke well and we all noticed how much her English has improved over the year. It was interesting to note that she said she is now thinking English when she speaks it. Ainhoa's time here was a chance to share her life with three host families. She thanked Rhonda, Eva, George, Donna and Michael who were her host parents and all her host siblings and extended families. She learnt so much about Australia by sharing the lifestyles in their homes. She also spoke well of the friends she made here with other exchangees and at school, and showed us by words and pictures the amazing amount of places she visited while here in Australia. What a fantastic journey and life experience for her. Thank you to all Rotarians who made the effort to get to know her and make her feel welcome whenever you met her. Thanks especially to those who took Ainhoa on trips and day visits. I'm sure you have enriched her life and she will miss you all. She became a part of our family and we're going to miss her as well. Click picture for larger view.
×
---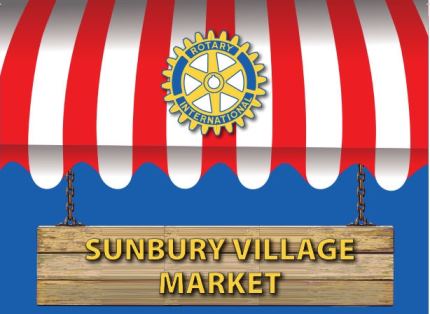 Sunbury Village Market
The next market will be held on Saturday the 10th of June 2017 at the Sunbury Memorial Hall and Village Green, Stawell St, Sunbury.
Please use the following link for exiting Stallholders to update or for New Applications
Please read the instructions on the next screen carefully. Details

The Village Market is also On FaceBook
---
Sunbury Neighbourhood Kitchen
SNKI Website Or on Facebook

The Rotary Club of Sunbury is proud to be a sponsor of the SNKI.
---