About the Rotary Club of Sunbury Inc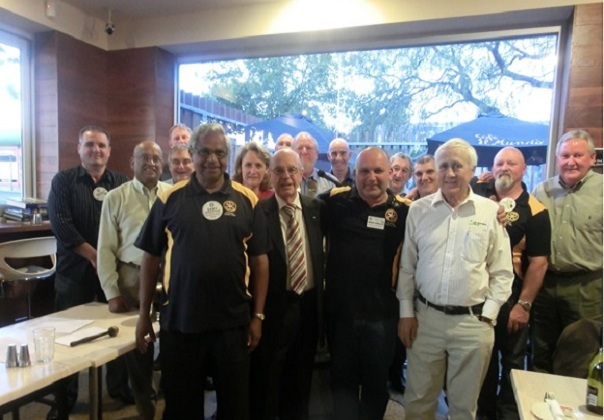 The club began its service to the communities of the world on April 10th 1973 with Charter President Mr. Ron Geyer (RIP).
Today one of the founders of this service club is still active member Past President Les Whorlow, we thank him for his on going commitment and dedication. For more information on how the Rotary Club of Sunbury is structered see About us today.
We are part of the world wide fellowship of Rotary which began in Chicago in 1905. Rotary is broken up into districts and we are a part of Distrct 9790 which stretches from Sunbury to Holebrook and Finley in NSW. More information can be found at the Distict Website
Our membership is presently numbers 42 of dedicated professional and business people who have a passion to help the community whether it be local, national or international and we are an incorporated body. See Join Rotary for more information on our membership.
We meet at the Nook Cafe and Wine Bar on Tuesdays at 6:30 for 7:00pm for dinner, where we have a lot of fun as well as instigating the important functions of Rotary in providing service to the community.
At our meeting's we strive to have interesting after dinner speakers and other activities. If you are interseted in Rotary please contact the president or secretary or the club by email or telephone, details can be found on the home page.
For more details about any of our Rotary Years Click Here
Past Projects Conducted by the Rotary Club of Sunbury
Establishment of Red Rock Outpost camp for youth of the district.
Careers nights ran for local schools
Rotary Youth leadership Awards RYLA students sent to seminars.
Sunbury Junior Fire Brigade band assisted with equipment.
Sunbury S.E.S. equipped with jaws of life
Sunbury Salvation Army- established emergency accommodation unit / furnished another.
Red Cross Appeal.
Earthquake relief funding to Pakistan -1975
Establishment of Rotary park in Sunbury for the communities use.
Shipped 2 wheel chairs to Rarpu Honart Colony General Hospital, Papua New Guinea-1975
Meals on wheels with Shire of Bulla
Rotaract club / youth programs initiated in Sunbury.
Participation in Rotary Internationals Youth Exchange Program.
Sunbury Library receives equipment.
Provided 2 X Ray machines to PNG
Provided mini bus for Sun bury Community Health Centre
DRIVE 120-youth driver training program.
Rotary's auction nights assist several worthy programs over 10 years.
Bosnia relief Appeal provision of 16 water wells for Bangladesh.
Asian Tsunami relief provided to the people of Sri Lanka.
20 years of assisting The Rotary Foundation with its Polio Eradication program. Between 1985 and 2011 the world fought and beat this debilitation disease.
Assistance to the communities of Timor Leste ( East Timor ) as they rebuilt their country.
class='style131'> Supply of an Ambulance for a Glaucoma Clinic in Nepal.